The Keylessfix Button Repair Pad is compatible only with certain GM remotes. If your remote looks like the ones pictured on our home page but your vehicle is not listed here, check the Help Section to test for sure if our Keylessfix Button Repair Pad will work for your remote.
If your Circuit board looks like this, KeylessFix will fix your buttons. Guaranteed!
Here is a PARTIAL list of Part #'s (GM/L) of GM remotes that are compatible:
15100811
15100812
15100813
15114374
15114375
15114376
22733523
22733524
15788020
15788021
15252034
15777636 and more.
These remotes are all the same on the inside even though they
may have different button configurations on the outside.
Our 1 pad is compatible with every possible button configuration.
---
Compatible with all GM Remotes for 2005 and newer CARS and MINIVANS. GM started making a newer style remote for 2007 and newer TRUCKS and SUV's that look identical on the outside, but the inside is completely different. Please Check the inside of your remote before ordering to ensure the Keylessfix will work for you.

List of Vehicles that have remotes that can be fixed using our Keylessfix Button Repair. Our one style of pad will fit in ALL the remotes of these cars:
PONTIAC
G5 (Pursuit)
G6
Montana SV6
SV6
Grand Prix
Solstice

BUICK
Allure
LaCrosse
Terrazza

CHEVROLET
Cobalt
Malibu ('04 and newer)
Uplander
HHR

SATURN
Relay
Aura
Sky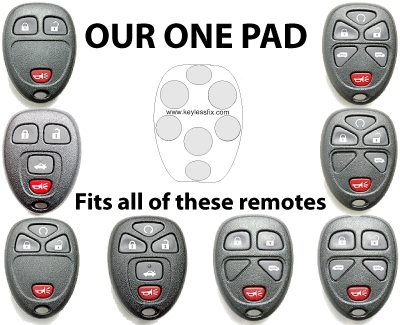 ---